Clarinet Playing Peacock Farmer On The Tonight Show
19/12/08 14:09
Thank you for taking the time to visit our peafowl blog telling all about my appearance on the Tonight Show starring Jay Leno on Friday 12-19-08, playing my disappearing clarinet act, In the segment called "Does This Impress Ed Asner".

I have been so overwhelmed by the positive response since I was on the show. I can not even count the phone calls, e-mails and letters I got after being on the show. I have heard from people almost everyday since I was on the show. Everyone wants to know all about every detail of being on the show. That is why we decided to post below the photographs and reprint of the 5 hours I spent on the NBC lot filming the Tonight Show. We hope you enjoy the full account of the day.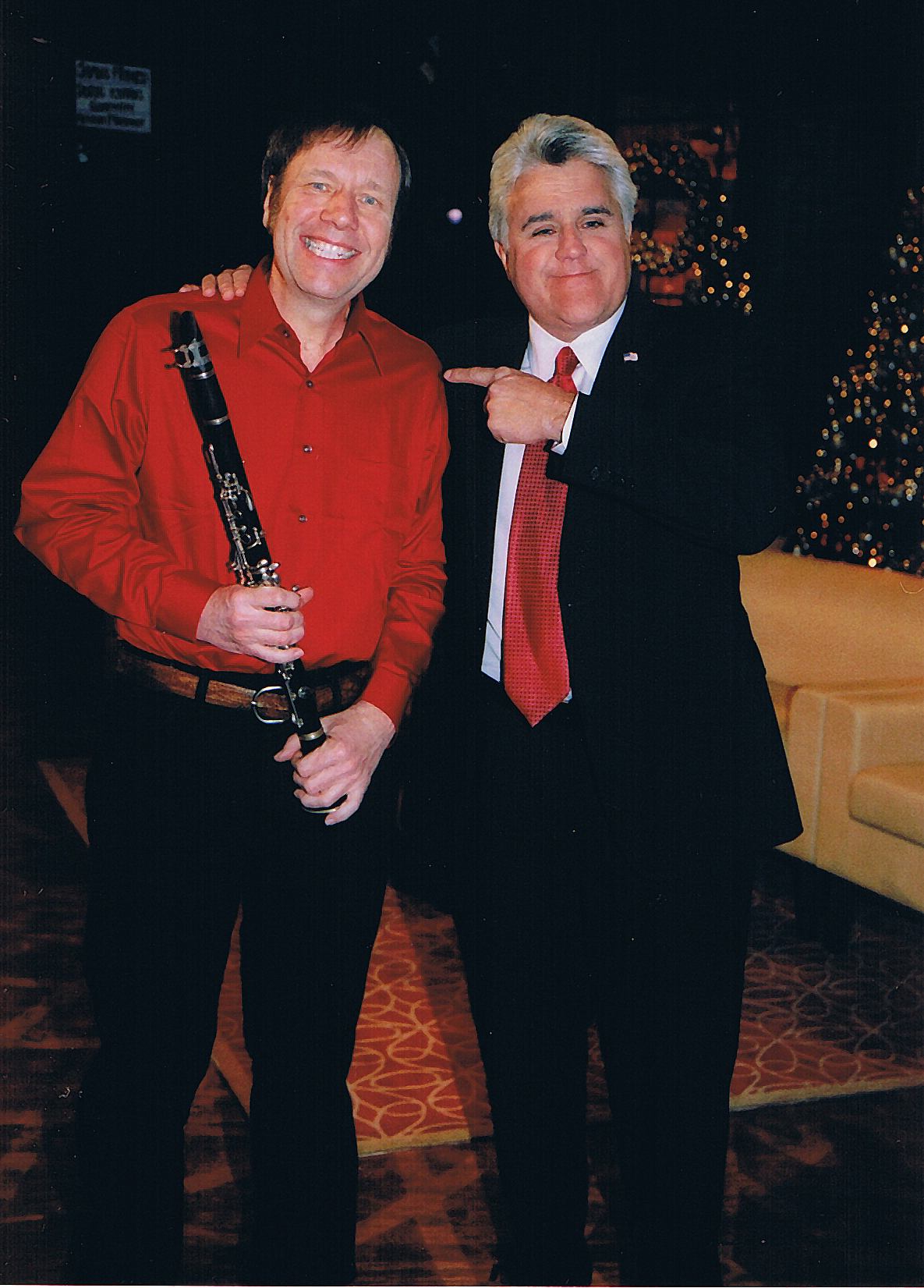 View Dennis Fett's Tonight show recreation



See Dennis Fett & Debra Buck on Attitudes talk show Starring Linda Dano.
Click here to view
~~~~~~~~~~~~~~~~~~~~~

The first photo is of the TV monitor in my dressing room right before the taping of the show. This is where I watched the show before and after my segment.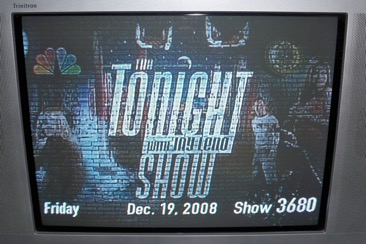 ~~~~~~~~~~~~~~~~~~

The next photo is of the name plate that was on my dressing room door. Everyone who is on the show has one and gets to keep it as an souvenir of doing the show.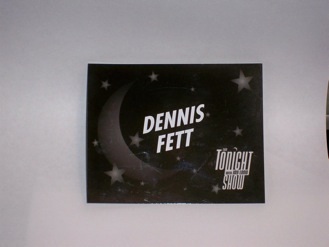 ~~~~~~~~~~~~~~~~~~


The next photo is one of the many cars that Jay Leno owns and drives to the studio every day. It is said he drives a different car the the studio every day. It is parked in the first parking space next to the Artists' Entrance to the Tonight Show Studio.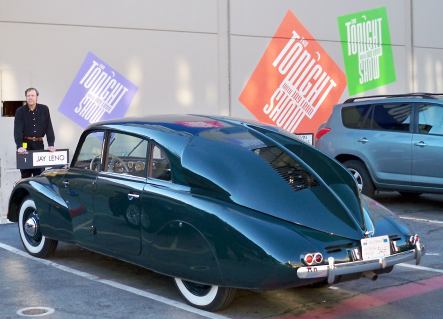 ~~~~~~~~~~~~~~~~~~


This photo was taken right as actor James Franco arrived at the studio. It finds me talking while about being asked to moved aside to let actor James Franco go into the studio.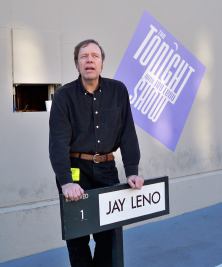 ~~~~~~~~~~~~~~~~~~


This photo is my favorite of all the outside the studio photos. It shows the very colorful paint job of the Tonight Show Studio.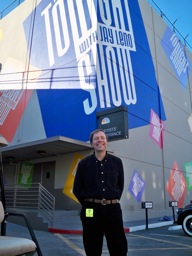 ~~~~~~~~~~~~~~~~~~

This is one of the several colorful Tonight Show logos painted all over the studio building.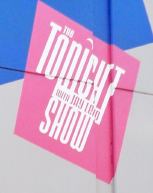 ~~~~~~~~~~~~~~~~~~




Enjoy the incredible experience of Dennis Fett doing the Tonight Show.


Proud As A Peacock!
By Debra Joan Buck
Editor of The Peafowl Report
Reprinted with permission from The January/February 2009 Issue 18-5
Of The Peafowl Report, Copyright 2009, http://www.peafowl.com



Dreams still come true in 2008. Dennis Fett got the best Christmas present of his life when he was asked to appear on the Tonight Show starring Jay Leno on December 19, 2008

This dream started as a youth growing up in Paterson, New Jersey while he was in 5th grade band. Fett was a frequent visitor, seeing the Christmas show at Radio City Music Hall in NYC every Christmas season with his family.

He always wanted to be a professional clarinet player after seeing the orchestra play each year at the Christmas show. As a high school student and later as a college student, he studied clarinet with Joe Allard of the Juliard School of music. Later he received his bachelor of music degree at Yankton College Conservatory of music in Yankton, South Dakota.

Fett had a dream of playing his clarinet on national television for as long as he can remember. But, he soon realized that his musical gift was being a music educator. He had to give up hopes of playing his clarinet professionally. Fett did play for community events in the Midwest off and on until 2006 when Fett landed a spot to be in the Iowa's Got Talent contest.

Fett resurrected his disappearing clarinet act he did in college and it was received well by the audience of the talent show. The performance bug had bitten Fett again and he wrote two arrangements of a popular song where he disassembles his clarinet as he plays and ends up with the mouthpiece.

Fett has spent the last two years perfecting his act by playing in area nursing homes and community events. Fett likes to do a segment in his act singing, The Wacky Peacock song that his wife, Debra Buck, wrote the words to and he wrote the music. They also founded The Peacock Information Center.

Fett & Bucks peacock books, The Wacky World of Peafowl, and DVD, and their publication, The Peafowl Report has gained lots of attention over the years. Fett always pitched his ideas to all his media contacts. He and his wife have an incredible record of 2 hours and 38 minutes of TV airtime on their work with peacocks. So when Fett resurrected the clarinet act after 25 years and felt it was ready for the public he pitched it to the media.

The Tonight Show was the first place he pitched it to. He had made contacts at NBC when he wrote a story on the history of the NBC peacock for his publication in 1993. It was then Fett made friends with several producers at NBC and later with The Tonight Show producers.

The producers always did have an interest in Fett's pitches but none of them were ever good enough to make the cut. However, timing is everything in life and that was the case for Fett. The producers of the Tonight Show were interested and Fett got called asking if he was available to be on the show.

Fett was slated for an appearance twice on the Tonight Show to play his disappearing clarinet act, in October of 2007 and in May of 2008, but did not make the cut again. He was disappointed and Fett's attitude of never giving up had him continuing to work on his clarinet act when he got the call to be on the show again on 12-19-08.

Fett had 2 weeks to get ready for his all expense paid trip to Burbank, California to be on the Tonight Show. Fett arrived the night before the show and was met at the LAX airport by his limo driver who took him to the Universal Sheraton Hotel.

The day of the show, Fett and the other two acts also appearing in the same segment Does This Impress Ed Asner? were taken to the NBC studio in a stretch limo. They were dropped off at the artist's entrance and were given back stage passes for the day. He was met by his segment producer and talent coordinator and were taken to his dressing room and had a few minutes to get ready. Fett knew this was all for real as there was a special Tonight Show plate with his name on the dressing room door.

Moments later, Fett was told that there will be a walk through briefing before the dress rehearsal. He was given instructions on how his segment was going to be and what could be expected.

He was the last of three to work with producers on stage, as the blocking on his act was very simple. According to Fett, "I warmed up my clarinet and when I say warm up I really mean it. It was around 50 degrees in the studio and me and my clarinet were freezing. I was concerned on how I would play in tune in the cold studio conditions but I soon forgot about the cold and started my 20-minute clarinet warm up routine off stage.

After I finished my warm up, I heard an incredible guitar playing and singing and it was Melissa Ethridge warming up her act on the performance stage to the right of where Jay sits singing Blue Christmas.

They were now finished with the other two acts after around 40 minutes and it was my turn. I was shown where to stand and where to walk in. I played my clarinet act without accompaniment for the producers for the first time in person. I got them both to smile and laugh while I played. I was told what kind of questions I could expect from Jay and told to just be myself, which I did. My producer and talent coordinator were very good pulling the very best out of me the whole day. They both kept the day fast paced and added a bit of fun throughout the day as they ran a very tight ship!

Then I was introduced to Gerry Etkins, the keyboard player of the Tonight Show Band and we discussed what he was going to do to accompany my act. We played my act few times and we were done, as we were ready for the dress rehearsal. Then we went back to our dressing room to get a little rest and to dress for our full dress rehearsal. It was not long and we were on stage for the final run through before we filmed the show at 4:00 pm.

We got the call to go back upstairs to get our cordless microphone on and do a sound check back stage by the sound engineer and we were ready to go. I was then brought back on stage to meet with Kevin Eubanks, the Tonight Show bandleader. We talked about how the producers and I wanted the background music to be. We then went over my 28-second clarinet act of playing Jingle Bells several times.

Then the producers decided my act would sound even better with the addition of the drum set beat of percussionist Marvin "Smitty" Smith. I told "Smitty" the drummer how I liked the intro beat of my arrangement to go and we were off. After several run throughs, The Tonight Show's fantastic vocalist/percussionist Vicki Randle added additional color to my band arrangement with the sound of jingle bells. I was done and went back stage and waited for my cue to do the final run through.

All the lights and cameras were ready and in place as all three acts of Does This Impress Ed Asner? segment were ready for a final run through. All went well and we soon were done and we had a little over an hour for a lunch break. We were treated to lunch courtesy of the Tonight Show at the NBC commissary just across the road from the Tonight Show studio.

After lunch, on our way back to the studio we had a little time and took photos of each other in front of the artist's entrance to the Tonight Show studio. Then as we took photos, an SUV came with actor James Franco of Spider Man 3. He had security guards and was escorted into the studio. This was as close as we got to any stars that appeared on the same show.

We all went back to the dressing room to get ready for our act. We had the TV monitor on in our dressing room and watched Jay's monologue. Jay was done and I got my reed wet and played a few notes in a very short warm up and we were escorted upstairs to take our place for the segment.

We were met by the stage manager and she had us take our places to wait for our cue to go on stage. Our stage manager had a way to keep us calm without words and her very positive professional manner made me feel very confortable right before I went out on stage. I was not nervous at all as I watched the first act on the back stage monitor. Then it was my turn and Jay gave the cue for me to enter the stage. I really did not pay any attention to anything else other than Ed Asner and Jay Leno and focused on their questions for my 1:48 minutes of fame.

Ed and Jay had a very special stage presence that made me feel relaxed and that we were long time friends even though we never met. The two of them brought the best out of me and my success was in part due to them and the tonight show staff that I worked with. After my segment I watched the 3rd act on the offstage monitors and when we all were done we went back to our dressing rooms to watch the rest of the show on the dressing room monitors.

I was on and it was done before I knew it. It was the fastest 1:48 minutes I ever experienced. It was a performance feeling unlike I ever felt in my musical career. I knew I did good job and could tell all liked my act.

The famous "green room" is on the first floor and our dressing rooms were downstairs. I met Jay Leno the first time when we filmed the show. I did see the "stars green room" with James Franco, Doris Kearns Goodwin and Melissa Ethridge. They kind of peered out and watched us parade past their rooms.

We then watched the rest of the show in our dressing room until the show was over and we were taken back to the studio for formal photos with Jay Leno on stage. As I took my position next to Jay for the photo, Jay thanked me for being on the show and said I did a good Job.

We got to stay on set until all the photos were done and went back to our dressing room to pack up. I took a photo of my producers and talent coordinator and was walked out to our waiting stretch limo for the trip back to our hotel room. The big day was over and we were back at the hotel by 5:40 to relax after a very big day.

This whole 5-hour day was a day I will never forget, as there was so much Iearned the whole day on many levels. This will help me be an even better music educator in the future. Friends and family asked me if I was nervous. First we never had much down time the entire 5 hours to even think and if the producers saw we lost energy they had a way to keep us ready to go. They were very professional and wanted us to do our best and made it happen for us the whole day.

This was the very first time in my musical career that I was not nervous. I spent 2 years perfecting my act and was ready to showcase it for the world on the Tonight Show. I have no idea if I will ever do my act again on national TV but whether or not I'm okay with that.

I was very happy that my segment came out so well when the show aired on TV. However, one exception, they cut out me saying I was a Peacock Farmer and music teacher. I am sure my students were disappointed as well as my peacock friends. But I am sure they had time issues on the show and felt that could be cut without compromising the segment. At least they did not cut the entire act.

There have been so many feelings after coming home to Iowa after being away for 3 days of doing the show. I know that it's a big deal to do the Tonight Show but really did not realize the impact it made on people I knew and those I did not know who saw me do my act on TV. On my final flight home the lady next to me on the plane said she saw me the night before on The Tonight Show. The next day we went shopping and several people came up to me and congratulated me and were all excited to talk and ask questions about the show.

My life will never be the same after doing the Tonight Show. I am so very grateful to the Tonight Show, its staff, along with my producer and talent coordinator, for providing me with the opportunity of a lifetime and my childhood dream came true. Thank you Tonight Show staff for an experience of a lifetime!"